There are so many ways you can get involved in making Tabb Tiger Bands the best they can be! Even if you have limited time and/or experience, your help is needed AND will be appreciated. Please click the SignUp Genius link below to view signups for all upcoming events.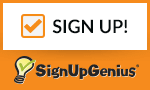 ---
Tabb High Band Volunteer Guidelines
CHAPERONE: Chaperones are responsible for helping to keep the students where they are supposed to be and ensuring they are behaving as students in the Tabb High Band program. Discipline will be handled by Mr. Lawson; however, you are his eyes and ears. Additionally, you will be required to ride the bus to/from events to help keep the students sitting in their seats and behaving properly. You are expected to sit near the band during football games and be wherever the students are during competitions (when they are not competing, students are near the buses). There may also be a need to move coolers and ensure they are filled with water and ice (students do a great job getting this done; however, there may be a few times chaperones help). The following are further chaperone duties:
– Take roll of students as they get onto the bus. Students will ride the same bus to/from football games/competitions. If a student is not accounted for, contact Mr. Lawson to ensure the student did not arrange for other transportation. After the trip, ensure students have cleaned up the bus and ensure the bus driver has all student rolls.
– During football games, chaperones are responsible to ensure band section is not occupied by fans.
– While the band is playing stand tunes, chaperones should check with students and bring water as needed. Once the game is complete, ensure students have cleaned the area.
– During half time/competitions, chaperones will assist students with placing on/taking off flumes (feathers on the hat).
PIT CREW WORKER: Pit Crew Workers are responsible for helping to load/unload the band trailer (larger instruments that have difficulties getting on the buses, any props for the half-time show/competitions, etc.). They also bring any half-time/competitions props, audio equipment, and larger band equipment onto/off the field. Pit Crew Workers are not allowed to ride the bus and will need to either drive to the event or ride with the driver pulling the trailer if there is room.
ALL VOLUNTEERS: Recommend volunteers bring the following items to assist in making this an enjoyable experience: a folding stadium seat; a raincoat or umbrella (just in case); water, snacks (concessions will be available); and a sweatshirt (for chilly fall evenings).
Please contact the TTBP Volunteer Coordinator with any questions.
v/r
Steve Tackett
TTBP Volunteer Coordinator
757-814-6481